Trends for Office Trailers, Container Offices, and Modular Buildings in New Jersey
The use of office trailers, container offices, storage containers, and modular buildings continues to grow globally, and the situation in New Jersey is no different.  After all, these structures are becoming increasingly easy to spot, be it at airports, construction sites, schools, medical facilities, parks, or even large warehouses. 
The New Jersey Connection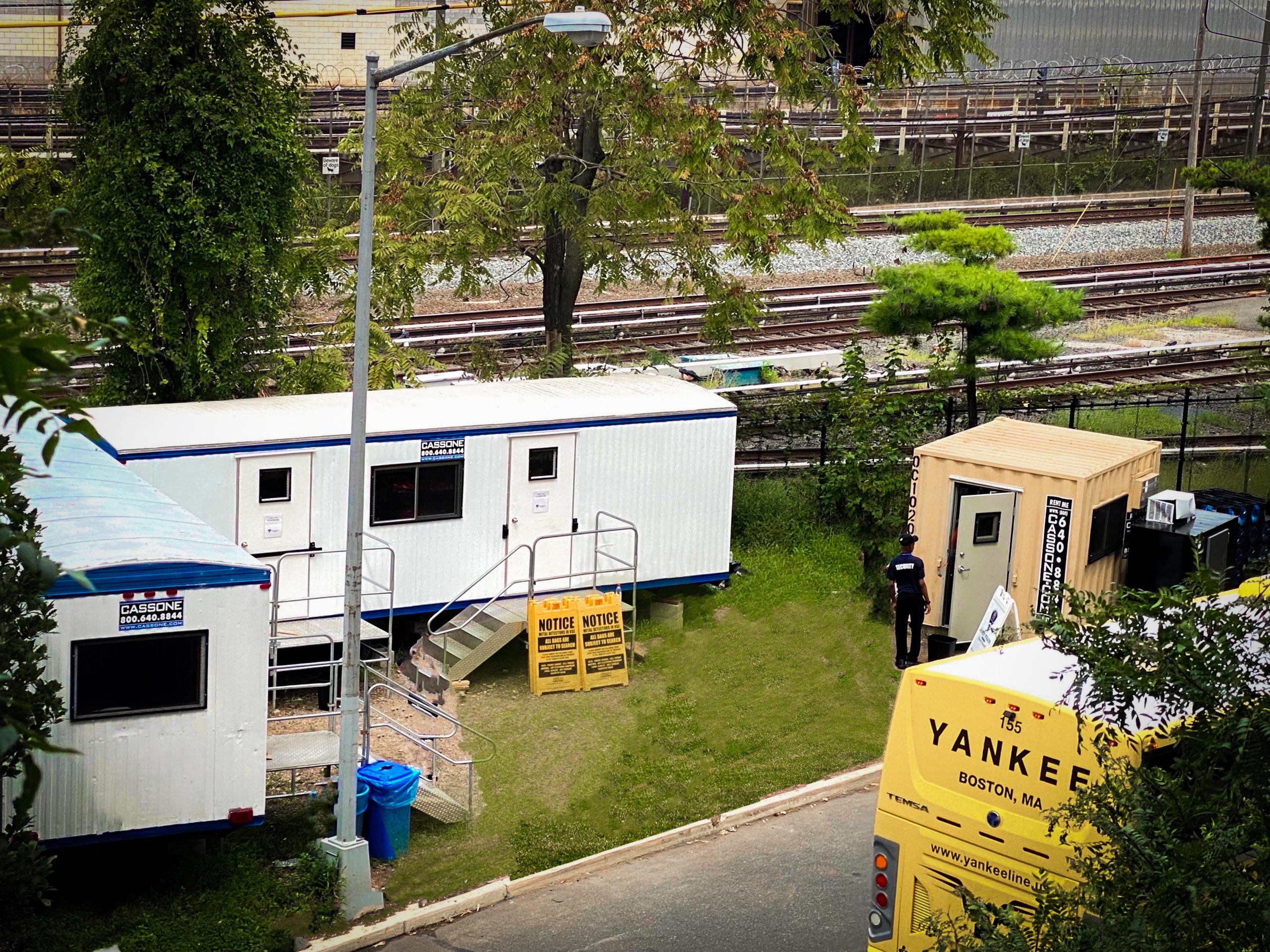 New Jersey is no stranger to the world of modular construction and using shipping containers to serve a variety of needs. For instance, Christopher Stone, an architect, came upon the idea of repurposing shipping containers with the aim of benefitting people after he got to see scores of empty containers lined up at the Newark Liberty International Airport through his office window. 
His subsequent efforts resulted in the "Live the Box," an international design competition that took place in 2008. It witnessed around 150 entries from 13 countries. This competition required creating multifamily urban mixed-use projects by using shipping containers. Even earlier, in 2004, Adam Kalkin, a New Jersey-based architect, created a "Quik House" that used five shipping containers as a base.
What the Future Holds
In a February 2022 Planning Board meeting, the Galloway Township unveiled Amazon's plan to build a 181,000 square feet Last Mile Delivery Station within its jurisdiction.  A January 2022 article in NJ Spotlight News suggests that a developer is hoping to build nine warehouses on a 650-acre parcel at the edge of West Windsor Township in Mercer County.  It also suggests that the demand for space has exceeded supply during the last quarter of 2021. Incidentally, where there are warehouses, there's a possible need for office trailers, container offices, storage containers, and modular buildings.
Why Container Offices Are Perfect for Warehouses
Optimizing efficiency remains among the top criteria when running a warehouse profitably. Given that a significant number of businesses look to plan and scale based on seasonal requirements, an increasing number of warehouses are turning to shipping containers for flexible and practical solutions. The benefits of using office containers in the warehouse industry are varied.
Increase Square-Footage Efficiency
A key aspect of increasing the efficiency of a warehouse is being able to make the most of existing square footage. Now, consider using a 20-foot shipping container that provides 160 square feet of office space, which you get to place practically anywhere inside or outside of your warehouse. If required, you also get the ability to stack up to three containers vertically, helping you make the most of your existing square footage. In addition, you may line up as many as you like horizontally. 
Provide Comfortable Settings
Winters in New Jersey warehouses can be rather unforgiving, and summers can be none-too pleasant too. Besides, humming and beeping sounds with their echo-like effects can get to be more than just a tad bit disturbing, all the more so when you need to carry out some official work that needs peace and quiet. If you get an insulated or temperature-controlled container office, you may look forward to answering your emails and creating your reports in a calm and relaxed atmosphere. Modifying a container office to have large windows so you may keep an eye on the goings-on is always an option.
Make Room for Visitors 
Visitors to a warehouse may come in the form of clients, third-party vendors, and business partners. In the absence of dedicated office space, matting other stakeholders when they visit your warehouse might not be the best way forward. When placed inside a warehouse, a container office can give your visitors a comfortable place from where they may see your operations. Given the scope for customization, you may choose to get a container office with air conditioning, partitioned seating, and phone/data lines.
Save Time
If you plan to wall-off an area of your warehouse to use as office space and go the brick-and-mortar construction way, you may expect disruptions that can last for months. Turning to a container office, on the other hand, can have your office up and running in little time. The time to set up your container office reduces further if your warehouse has a dry and flat surface that does not require prep work. In this scenario, once the container office is set in place, it's pretty much good to go.
Relocate Easily
If you build a brick-and-mortar structure, it stays put in the same place. A container office, on the other hand, gives you the freedom to relocate it as and when the need arises. If you've rented or leased your unit, all you need to do is contact the company with who you're working. If you've purchased your container office, you may contact a shipping transportation company to help you relocate your unit.
If mobility is among your top priorities, you may even consider opting for a mobile office trailer or a portable office trailer. The units come in the form of prefabricated structures manufactured in controlled settings. A mobile office trailer sits on top of a wheels-and-chassis trailer base, which makes it considerably easier to relocate than a container office.
Increase Security
No matter whether you wish to set up an office inside or outside your warehouse, keeping your paperwork, computers, and other expensive or sensitive material secure is often a concern. Office containers and mobile office trailers come with largely similar security features. Depending on the level of safety you need, you may choose to get heavy-duty cargo door locks, galvanized steel doors and frames, lockboxes, and panic hardware.
The Use of Storage Containers in New Jersey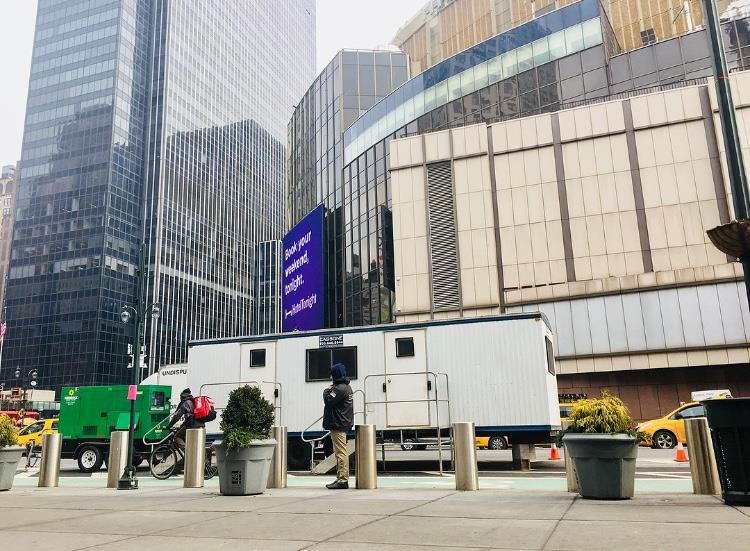 New Jersey is no stranger to the world of storage containers. The Port of New York and New Jersey, after all, is the largest port on the East Coast, and it boasts of having one billion square feet of warehousing and distribution space within a 50-mile radius. Given recent reports, it's safe to presume that the need for warehouse and storage space in the region will continue to rise. 
When it comes to keeping cargo secure, storage containers often become the go-to solution. Their use is common at construction sites and warehouses in and around New Jersey, and they also find their way to home renovation sites. Much like office containers, these are made using shipping containers too. As a result, scaling up or down based on changing requirements is easy, and moving them from one location to another is always an option.  
Some of the other benefits that come with using storage containers include:
Setting up is fairly easy and takes much lesser time than building a brick-and-mortar structure

Improvement in project management by keeping the required inventory at hand

Easy to customize (lights, shelves, drip trays, turbine vents, roll-up doors, and more)

Increased security through optional high-tech locking systems
Making the Case for Modular Buildings
According to a report published in the Digital Journal, the existing market trends in the modular building sector point to the preference for steel-framed modules for factory/industrial applications as well as more innovations coupled with the use of newer technology for creating prefabricated modular structures.
The same report points out that the key market drivers include increased use of modular buildings at short-term international events, rising demand from the biotechnology and pharmaceutical industries that continue to look for innovative space solutions, as well as growing infrastructural development owing to urbanization and industrialization.
According to the Modular Construction Market Forecast Report released by MarketsandMarkets, the global modular buildings market size is set to reach $108.8 billion by 2025, up from $82.3 billion in 2020. This report attributes an increase in demand to factors such as work-zone safety concerns, supportive government initiatives, rapid urbanization, and the need to create a lower negative impact on the environment. It also suggests that volatile transportation charges and not enough awareness might work as possible deterrents to growth.
Closer to home, the State of New Jersey partakes in an Interstate Compact that deals with the construction of modular buildings. Consequently, units that pass required in-factory inspections and meet relevant state codes come with industrialized Buildings Commission (IBC) labels.
Residents of New Jersey who have questions about modular construction may call the Code Assistance/Development Unit at 609-984-7609. You may also check the State of New Jersey Department of Community Affairs' Manufactured/Modular Buildings Program page to get more information about industrialized/modular buildings as well as manufactured housing.
The Benefits of Modular Buildings
Much like mobile office trailers, the construction of modular buildings takes place under controlled conditions. Manufactured in factories, units are transported to and assembled at previously selected locations. Depending on the scale of your project, your modular building might come in the form of a complete or a sub-assembled structure. The benefits of going the modular construction way include:
Ability to customize.

First, you get to choose from different sizes and floor plans. Additional need-based features come in the form of custom flooring/walls; heating, ventilation, and air conditioning (HVAC) systems; phone and data lines; and sectioned seating.
Quick construction.

In most cases, modular buildings take 20% to 50% lesser time to construct than their brick-and-mortar counterparts. Fewer weather-related construction delays are a contributing factor.
Reduced costs.

Modular construction can lead to savings of 10% to 20% when compared to conventional construction methods.
Clutter-free construction.

Since modular buildings are prefabricated in factories, you don't have to worry about dealing with onsite storage of construction material. 
Lower wastage.

Eliminating the use of materials such as concrete, bricks, cement, timber, and plasterboard brings with it the potential to reduce construction waste by up to 90%. With modular construction, this is easy to achieve.
Buy or rent.

Modular buildings can serve short-and long-term requirements alike. If you plan to use one for over three years, buying might work better than renting.
Four Solutions, Multiple Applications
In the most basic form, you get four cost-effective space solutions from which to choose, be it for the short or long term. These come in the form of container offices, mobile office trailers, modular buildings, and storage containers.
What helps is there is virtually no limitation to how you may put them to use. For example, using any such unit might more than just serve the purpose if you're looking at getting a new office, beer/wine garden, first-aid center, conference room, locker room, restroom, concession stand, or security booth.
Mobile trailers.

These find favor with construction sites, hospitals, schools, hotels and restaurants, government agencies, retail businesses, pop-up shops, and small distributors.

Container offices.

Container offices are commonly used in construction, retail, entertainment, hospitality, medical, manufacturing, education, automotive, and agriculture sectors.

Modular buildings.

You may find these at industries, commercial establishments, educational institutions, healthcare facilities, as well as places of worship, and their use is gaining ground in the housing sector too.

Storage containers.

Storage containers typically find use at construction sites and warehouses. More recent use comes in the form of their doubling up as climate-controlled data centers. Storage containers also find use in domestic projects that involve home renovations.
What might work best for you depends on multiple factors. If you're looking at short-term use that extends to no more than a few months and you don't need much space, a mobile trailer might work well for you. If you, on the other hand, need a long-term solution, you might consider looking at what container offices and modular buildings have to offer.
Conclusion
New Jersey has witnessed a considerable increase in demand for office trailers, container offices, storage containers, and modular buildings in the last few years, and the trend is not about to slow down any time soon. If you, like many others, wish to get on the container office or modular building bandwagon, it's important that you start by taking your individual requirements into account. This is because while someone might benefit by getting a modular building, a container office might work better for someone else.
If you're unsure about which of these alternatives might work best for you, or if you have any questions about the benefits on offer, consider speaking with an expert from a reputable company that deals in office trailers, container offices, storage containers, and modular buildings.