Mobile Office Trailers or Container Offices – Which Do You Need?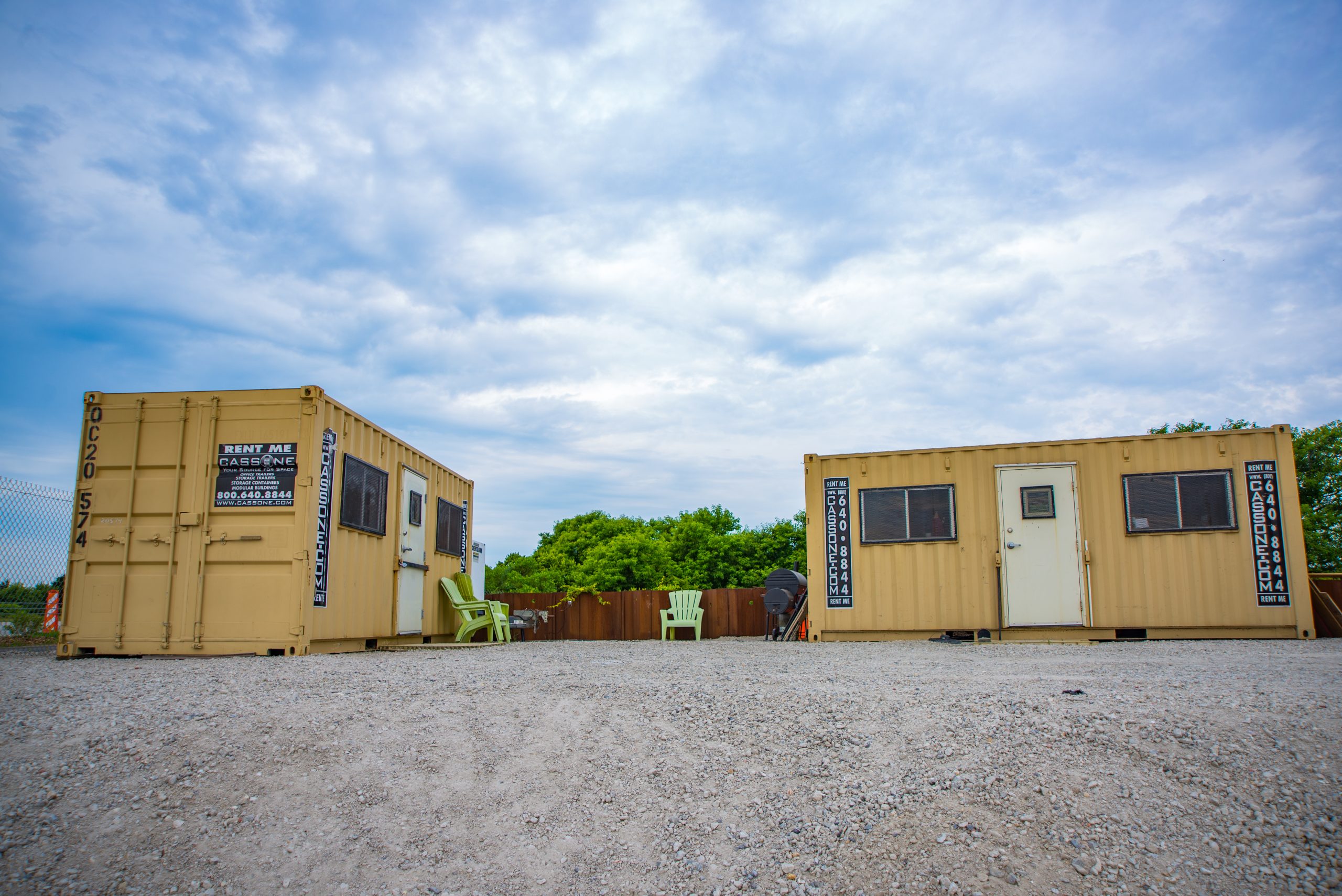 While office containers and ground level storage containers are made using shipping containers, office trailers are pre-manufactured in factories. Incidentally, use of both is fairly common with businesses that need temporary space solutions. Mobile office trailers and container offices offer high levels of versatility, offering practical and imaginative uses alike.  These solid units serve a variety of office needs, and some businesses have even created beautiful showrooms and bars out of these.
Construction companies may use them as mobile field offices, restaurateurs can convert them into wine bars and beer gardens, retail businesses may use them as temporary outlets, and schools may turn to them for extra classrooms. Besides, while you may look for luxury mobile office trailers, you can also find ones to cater to simplistic requirements.
Before you venture out to look for a mobile office trailer or a container office, it is important to be able to differentiate between the two. This is because while they come with a bunch of similar features, there are some important differences too. For instance, both typically rely on electric services connected to nearby sources of power to meet their electricity requirements. However, while one is designed to serve a short-term need, the other can be in it for the long haul.
What are Container Offices?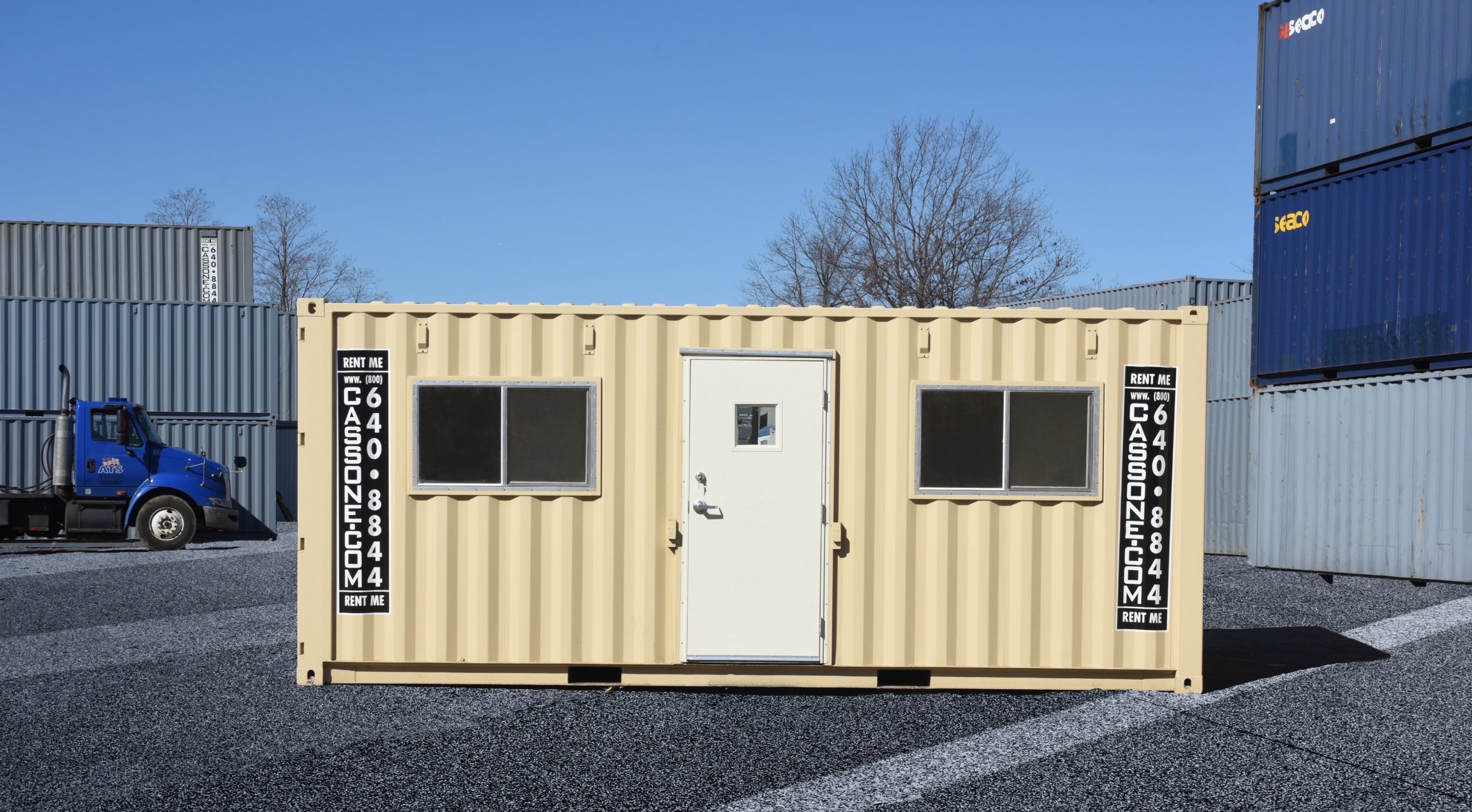 Container offices offer flexible office solutions that include getting multiple units and stacking them on top of each other. Most container offices come with distinct features, while also giving you the ability to customize as per your requirements. These office spaces include all necessary elements of conventional offices, which include plumbing and electrical systems. Advanced planning ensures maximum efficiency of space.
Owing to advanced insulation systems that come with container offices, they can withstand harsh weather conditions. Flexibility also comes in the way you can use existing space. For instance, you may change a conference room into a cafeteria for your employees with relative ease.
Pros and Cons
The benefits of container offices include:
Cost-effective. Building container offices is more cost-effective than building traditional brick-and-mortar structures.

Quick to build. Building a container office takes considerably lesser time than a brick-and-mortar structure.

Flexibility. Container offices give you easy means to modify existing space or add more space.

Durability. Made, shipping containers come with hinged doors and corrugated walls at the top and bottom – welded to the rails and end frames. These features make them highly durable and weather-resistant.

Mobility. Should the need arise, you may choose to relocate a container office to a different location. If the unit is leased/rented, it can be moved by the container office company you're working with, and if you own the unit, you may consider using the services of a shipping transportation company.
Some of the possible drawbacks of container offices include:
Getting permits. Since the concept of container offices is relatively new, getting the permits you require can be a challenge in some regions. Fortunately, when you work with a local company that provides container offices, you can rely on its knowledge to move forward.

Need reinforcements. Even though office containers are made using high quality steel, making modifications may affect their structural integrity, which is why it's important to work with someone who understands the industry and these structures. For example, cutting large holes to make way for doors and windows may reduce a container's overall strength.  Further, if a container's corner castings aren't up to the mark, its roof can bow because of heavy snow.  Need-based reinforcements may come in the form of installing sloped roofs or strengthening load-bearing walls.
Common Uses
Container offices find use in different industries, which include, but do not limit to:
Construction

Retail

Entertainment

Hospitality

Medical

Manufacturing

Automotive

Agriculture
What are Mobile Office Trailers?
Unlike container offices, mobile office trailers or portable office trailers are made in factories. These pre-manufactured units that function as portable offices come atop a wheels-and-chassis trailer base that you may relocate as and when you like (provided they're empty and moved by the company through which they are leased). These units are elevated from the ground, which is why they come with stairs/ramps, although these aren't included in the base price.
As is the case with container offices, you get to customize mobile office trailers in different ways. For instance, you may expect your mobile office trailer to come replete with electricity, plumbing, internet connectivity, air conditioning, vinyl flooring, high-security locks, and more. Depending on the features you're after, you might have to pay additional costs.
Pros and Cons
You may expect most of the benefits of getting a container office from a mobile office trailer too. Other benefits include:
Easy set-up and removal. The company you select is responsible for delivering and setting up your mobile office trailer, and this takes much lesser time than building a brick-and-mortar office. Removal of the office when you no longer need it is also simple and handled by your mobile office trailer provider.

Customization. Getting to meet your specific requirements is easy if you work with the right company.  These can come in the form of customized seating and cabinetry, as well as extra windows, glass doors, luxury flooring, restrooms, and an added cafeteria.
Possible drawbacks of mobile office trailers include:
Space. A key drawback that surrounds mobile office trailers is space. Given the mobility factor, you cannot expect a very large space from a mobile office trailer. 

Lifespan. A mobile office trailer provides a lower lifespan in comparison to a container office.
Common Uses
Like container offices, mobile office trailers also find use across realms such as:
Hospitals

Schools

Hotels and restaurants

Government agencies

Pop-up shops

Small distributors
Differences Between Mobile Office Trailers and Container offices
Even though mobile office trailers and container offices come with several similar features, there are some differences you need to know about as well.
Space and Storage
Mobile office trailers come in the form of single self-contained units. They are smaller than container offices, and since they come on wheels, you cannot stack them one on top of the other.
Duration of Use/Lifespan
Mobile office trailers are best for short-term. The life expectancy of container offices, on the other hand, can range from 15 to 20 or more years. This is because while the former may suffer wear and tear owing to frequent relocation, the latter tend to sit in one place. Besides, ground level container offices are built to be more resilient, and may last over 20 years even after repeated relocations.
Assembly
Mobile office trailers require no more than securing the structure to the ground, whereas container offices might come with complex assembly that requires architects, electricians, plumbers, and welders.
Cost
The cost depends on your specific requirements. For instance, the upfront cost involved in getting a ground-level office could be at par or even higher than that of a mobile trailer office. Whether or not you have access to suitable machinery and equipment such as cranes, forklifts, and jacks also play a role in the overall costing.
If you're looking at a long-term solution, a modular office building might be the way to go. Not only will it offer increased sturdiness, it will come without ongoing maintenance costs typically associated with a mobile office trailer's chassis, axles, and wheels.
In case an office trailer you're looking at exceeds standard width and height restrictions, you will require a permit, the cost of which varies from one location to another. Costs might also be a concern with container offices if their initial transportation requires oversize load permits. This is not usually the case, because shipping/storage containers are designed to sit perfectly on trucks meant for this specific purpose.
Safety
Safety features surrounding mobile offices and container offices remain largely the same, and you essentially get what you pay for. Depending on your requirement, you may get both made using 8-guage steel with reinforced corner posts and cross members.  If you plan to store any type of flammable or toxic material, getting a mobile or a ground-level unit with a suitable ventilation system should be among your top priorities.
What Are Conex Offices?
History of the Conex box dates back to the Korean War, when the United States Army Transportation Corps developed and created the Transporter, a tough corrugated steel container that could carry up to 9,000 pounds. The Transporter was 2.59 meters long and 1.91 meters wide. Around the same time, a number of commercial shipping companies were using standardized steel and aluminum to make shipping containers.
The Container Express (CONEX) box system was developed based on the Transporter. One variant offered roughly the same storage space, and there was a smaller alternative as well. These containers found favor within the transportation industry not only because they provided protection from the elements, but also because stacking them in up to threes was safe and easy. 
Use of the term "Conex" remains common among military personnel associated with logistics. In addition, some people refer to ground level storage container  offices as Conex offices. Companies that provide Conex containers to meet different container office needs typically offer mobile alternatives as well. 
Should You Rent or Buy?
Irrespective of whether you're looking modular office space or a portable trailer to serve as your office, you get to choose between renting and buying. Given that most requirements for container offices are temporary, renting is more common than buying. For instance, you might need extra space only for a few months each year and investing in a permanent solution might not be in your best interest. 
Container offices are typically rented out for 6 to 24 months, although you may choose to rent one for a shorter or a longer period. When you go the renting way, the supplier is responsible for delivering, installing, maintaining, and removing the structure. If you think your need might extend to beyond three years, you might consider buying your container office. This is because buying can turn out to be more cost-effective than long-term renting. 
Which Should You Get
If you are looking for short-term office space that extends to no more than one or two rooms, or if you require your office space to be easy to relocate, getting a mobile office trailer might be in your best interest. On the other hand, if your requirement extends to multiple rooms or floors, and you're not very big on mobility, a custom modular building might work better for you. Remember that while both can work as effective short-term solutions, modular container offices are better if you're thinking about the long-term. Getting both customized to meet industry-specific requirements is fairly straightforward. 
With container offices, you can go up to two floors up.  Common office trailer sizes include:
8′ X 20′

8′ X 24′

8′ X 25′

8′ X 32′

8′ X 36′

10′ X 40′

10′ X 50′

12′ X 60′

24′ X 60′

24′ X 64′
Conclusion
You may consider getting a mobile office trailer if you have a short-term requirement for an added room that does not involve harsh weather conditions, if you need office space with an HVAC system, or if you need a temporary bathroom/cafeteria. If you're looking at long-term intense use that may or may not involve relocation, or if you have a need for significant space, getting a modular container office might be your best bet.
While you have the option of buying a shipping container or two and then converting them into office space on your own, this process requires knowing how to work with different tools of the trade. Besides, you'll need to source a variety of material too. As a result, when you're looking for a mobile or a modular container office, make sure you deal with a professional and reliable company that can cater to your various needs with ease.