All You Need to Know About Permanent and Portable Concession Stands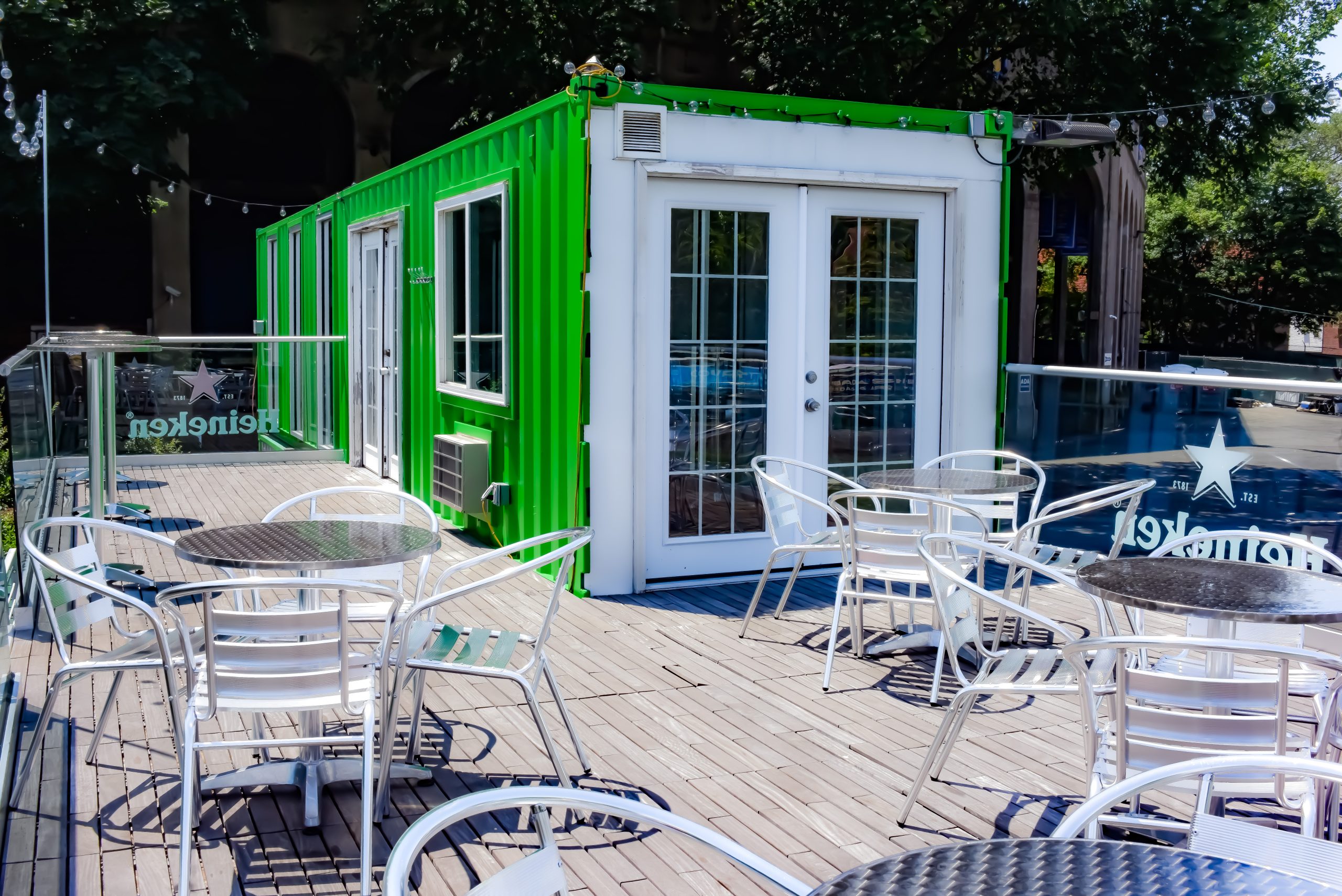 Concession stands have come a long way since they started finding favor with theater owners and moviegoers by the 1930s. Now, you have the ability to get custom concession stands made using modified shipping containers that are capable of providing years of service. No matter whether you need a climate-controlled environment, customized counter space, or internet connectivity, you may expect your modern-day concession stand to deliver on all counts.
What Is a Concession Stand?
A concession stand traditionally refers to a stand, kiosk, or stall where people might buy food and beverages. It is common for people to refer to them as concession containers, portable concession stands, and shipping container concession stands.
Their presence is no longer limited to movie theatres, and you may now find them at sporting events, schools, music festivals, street fairs, and farmers' markets. Besides, the use of portable concession stands also extends to wine bars, restaurants, beer gardens, and coffee shops.
You get to see permanent concession stands at venues that receive high foot traffic such as entertainment arenas, sports stadiums, and airports. The American Airlines Center in Dallas, for instance, offers an extensive range of food and beverage concession stands for its patrons. 
Third-party vendors are typically responsible for managing concession stands outside of venues. They receive contracts, referred to as concessions, and therefore the name. It's common for products to be priced higher-than-usual at concession stands, especially if they're located in places that prohibit outside food and drinks or if they're near popular attractions.
Benefits of Container Concession Stands
Concession stands made using recycled shipping containers are perfect to meet short-term and long-term requirements. For instance, a concession stand or more might be just what you need to ensure that attendees have enough food and drink alternatives to get through a music festival. On the other hand, it could also serve the purpose of a long-term solution, like what Cassone did by installing a pizza oven in the custom concession stand they created for a golf course. 
Going the container concession stand way comes with various other benefits as well.
The Cost Factor
Since the construction of concession stands begins with a ready-made structure, you end up saving on material and labor costs when compared to building a regular brick-and-mortar or wooden structure. Besides, modifying an existing concession stand costs a fraction of what you'd need to pay to get a new one. Estimates suggest that going the shipping container way instead of opting for onsite construction can lead to savings of anywhere between 20% to 60%. Since such concession stands are built to last for years, you may look at them as long-term investments.
Serve Different Purposes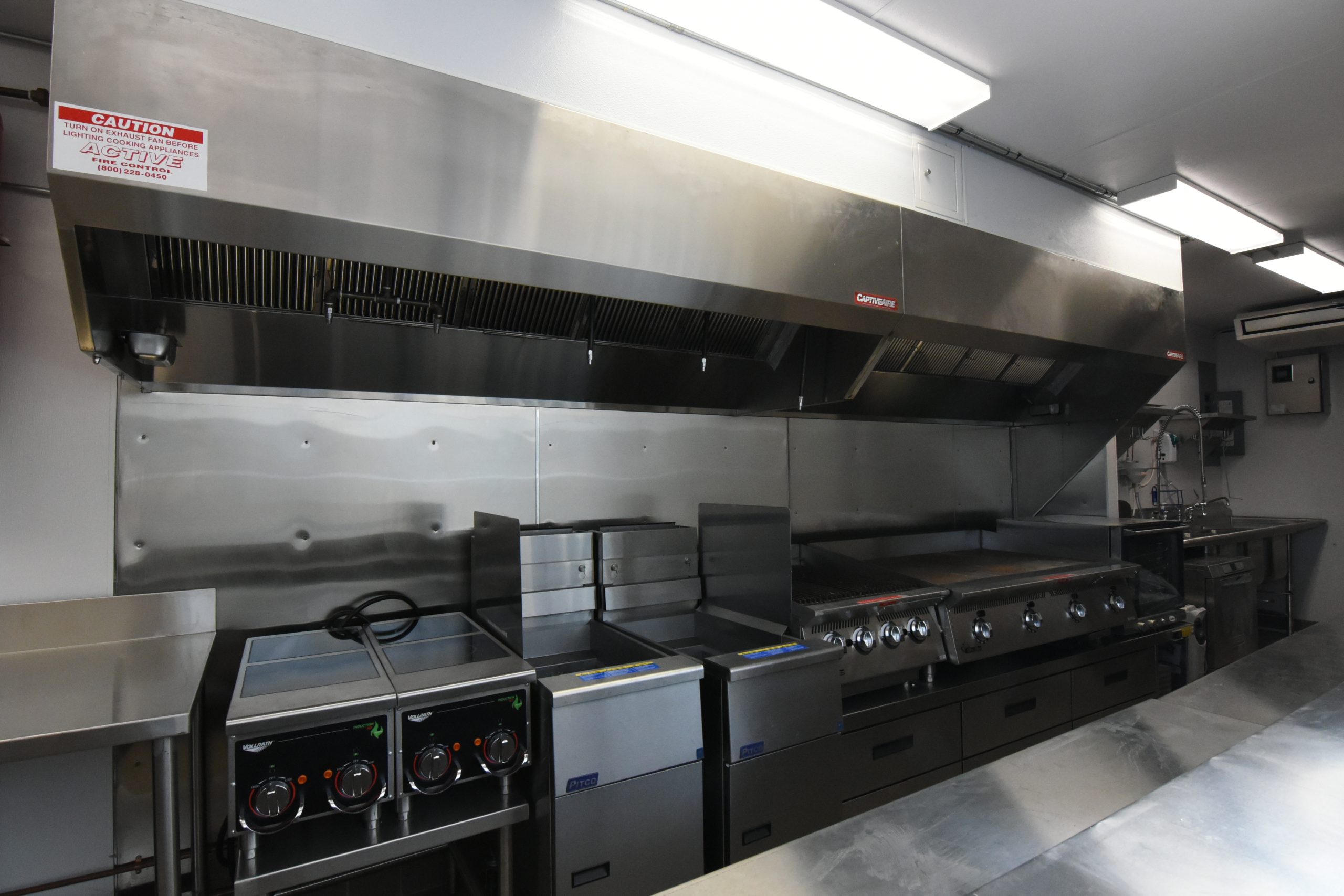 An increasing number of establishments such as restaurants, bars, wineries, beer gardens, and coffee shops are turning to container stands to meet their space requirements. No matter whether you're looking for a concession stand to start a new venture or expand your existing business capacity, you may find one to suit the purpose.  What helps is that you can get a completely customized stand with ease. For instance, you may choose to get doors, windows, and service counters built to your exact specifications. This also holds true for counter tops inside a concession stand, where adding a range of appliances remains an option. If you want an oven, a deep fryer, a grill, a refrigerated unit, or a coffee maker in your concession stand, consider it done.
Meet Varied Needs for Space
While you get to see concession stands at a myriad of locations, what also helps is that you may get one to suit your specific space requirement. This is because even though shipping containers come in fixed sizes, assembling multiple units together diagonally is fairly straightforward.  Stacking two containers vertically, while not as simple, is also an option, and this gives you the ability to make the most of existing ground space availability.
With your need for space met to suit your requirements, you can be sure that your concession stand comes with enough space to display products, storage space, as well as room to move around. If you end up needing more space later on, adding another container remains an option. Most commonly used container stands measure 20 feet x 8 feet, giving you 160 square feet of floor space.
Durable
Concession stand construction involves using shipping containers that are made with high-quality steel. Besides, the use of corrugated walls, weight-bearing corner posts, and hinged doors add to their overall durability.
Branding-Friendly
The basic design of concession stands makes them perfect for branding. You have the option of using the exterior walls to promote your brand through your logo, the colors that represent your brand, information about new products/services, or practically any other business-related message. If your concession stand is located in a sea of others, getting your branding right enables you to stand out from your competition. In addition, when done right, a concession stand helps boost your brand's image and build its reputation. An increase in revenue typically follows.
Portable
Irrespective of whether you rent or buy a concession stand, you have the option of moving it from one location to another. Compare this to the cost and time involved in building multiple concession stands at different locations that you use only for limited time periods. Portable concession stands give you the ability to do away with additional installation and branding costs, and you typically only need to worry about transportation costs.
Environmentally Friendly
According to data released by the United States Environmental Protection Agency (EPA) in December 2020, the U.S. generated 600 million tons of Construction and Demolition (C&D) debris in 2018. Of this, 145 million tons found its way to landfills. Concession stands made using shipping containers rely on the reduce, reuse, and recycle philosophy. Not only is it easy to repurpose a concession stand once it finishes serving its purpose, the use of recycled steel, wood, and glass is common in such units. What also helps is that container stands minimize the use of bricks, cement, wood pallets, timber, cardboard, and plasterboard.
Pest Resistance
Pests can be quite a problem to deal with for traditional concession stands. For instance, carpenter ants and termites commonly find their way into wooden structures that are not maintained suitably. This is not so much a concern with container concession stands even when they make use of plywood to function as floor beams because it is treated with pest-resistant varnish in advance. Combined with steel casings, the very construction of container stands make them resistant to pests.
Other Business-Specific Advantages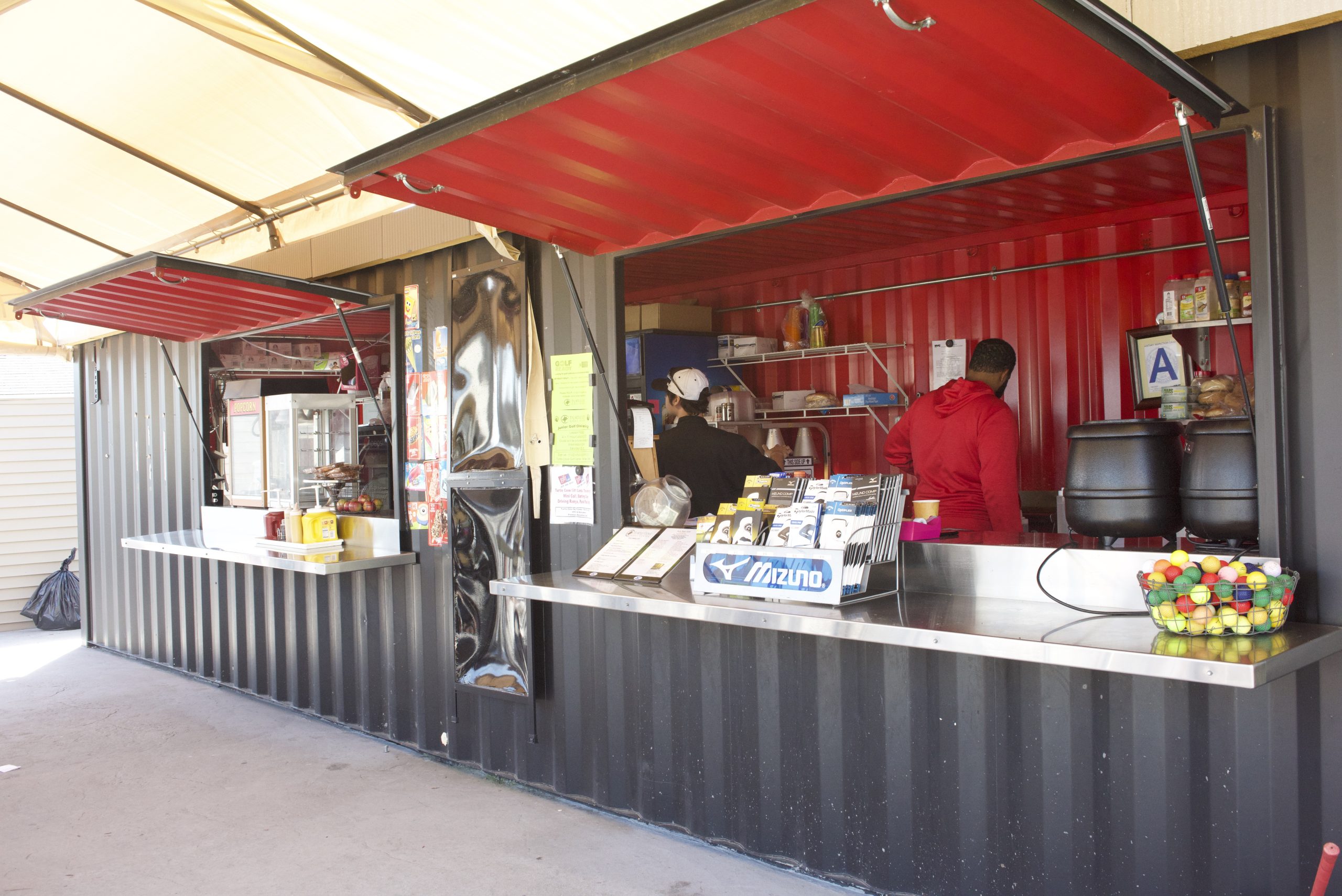 Depending on the intended use of a portable concession stand, businesses may look forward to other benefits as well. For instance, a concession stand that functions as a snack bar can be a great source of additional revenue.
Increase in foot traffic.

Concession stands that offer food or merchandise can help increase foot traffic in just about any type of setting. For instance, if you have the option of going to a music festival with multiple concession food stands as opposed to one that requires you to get your own, which one would you choose?

Word of mouth publicity.

A good and well-placed concession stand is bound to find takers. Word of mouth typically follows, through which you may expect an increase in customers. Encouraging them to share the word via social media can help augment your overall marketing efforts.

Longer periods of time spent.

If your location serves your patrons' food and beverage requirements, you may expect them to spend more time (and possibly money) doing what you want them to.
Should You Buy or Rent?
You get to choose from buying or leasing a concession stand based on your specific requirements.  However, the portability aspect differs depending on the path you take. For instance, if you buy a concession stand, you are free to relocate as and when you like, by using any third-party vendor. However, if you lease any such unit, the company you lease it through is responsible for its relocation, and you will, in all likelihood, need to pay a fee each time you want it moved.  
No matter whether you're looking at concession stands for sale or wish to rent one, various aspects require your attention. 
Size.

  Most container stands measure

8 feet x 20 feet. However, you can also get containers of other sizes converted into custom concession stands, and your options include

8′ x 10′, 8′ x 15′, 8′ x 30′, and 8′ x 40′. Some concession stand providers offer custom sizes as well.

Location.

When you invest in a concession stand, you have the option of narrowing down on a permanent location or moving it from one place to another. In both cases, make sure you account for the possible foot traffic your stand will receive. Some popular locations include college campuses, farmers' markets, large office buildings, business districts, music festivals, sports venues, and even food truck parks.

Research.

Given that there are numerous concession stand suppliers and manufacturers from which you get to choose, carry out some research to determine which one might work best for you. While cost plays an important role in arriving at a decision, you also need to consider factors such as work on previous projects, ongoing support, and customer service.  Going through online reviews of previous customers might also help.

Discuss your needs.

Once you've shortlisted a few companies, discuss your requirements with them in detail. Asking them for

portfolios or pictures of prior work

is always a good idea. if you have any questions about the concession stands on offer or about rental terms, discuss them ahead of time. 

Regulations and permits.

Depending on the desired location of your concession stand, you might need to adhere to different regulations and may also need a permit. For example, if you plan to run a food service concession stand in New York State, you need to take a close look at

New York Code, Rule and Regulations SubPart 14-2 – Temporary Food Service Establishments

. It touches upon aspects such as permits, equipment, sanitization, storage, waste, floors, and walls and ceilings of food preparation areas.

Signing the dotted line.

if you plan to rent a concession stand, go through the agreement carefully before putting pen to paper. Make sure you understand just what you're getting into surrounding the maintenance of the unit as well as any other associated fees. For instance, you'll need to pay a transportation fee each time you wish to relocate your portable concession stand.
Running a Concession Food Stand
You may think about getting a concession food stand going in a variety of public places such as local parks, fairgrounds, and beaches, provided they allow the sale of food. You may, for instance, think about getting a permit to operate your outdoor concession stand in NYC Parks. The MetLife Stadium is another popular venue that is open to taking applications for portable concession stands.
The Way Forward
Once you've decided you wish to run a concession stand, you need to formulate a workable strategy. Aspects that need your attention include:
Location.

You need to choose a location where you'll receive adequate foot traffic, failing which, even a great menu won't help much.

Permissions/permits.

Find out which permissions or permits you need and get them in advance.

Menu.

Take the location into account before creating a menu. For instance, if you plan to run a concession stand at a campground, selling snacks such as hotdogs and pizzas might work well for you. If you're setting shop in a place that already has multiple concession stands, you may consider specializing in novelty items such as waffles, pancakes, and fudge.

Equipment.

Take stock of all the equipment you'll need to work on your desired menu and determine if it's compatible with your concession stand.
Conclusion
A container concession stand offers multiple benefits over traditional units made using wood or concrete. Not only are these units capable of meeting different space requirements, they come at considerably lower costs when compared to traditional building methods. If you choose to buy a portable concession stand, you are free to relocate it as and when you like. While this is also the case if you rent a unit, you'll need to use the services of the company you're working it to meet transportation requirements.
Branding your concession stand in almost any way you like is possible, and you get other customization options from which to choose as well. The fact that these units make for environmentally friendly construction serves as icing on the cake. If you're wondering where to buy concession stands or even rent one, all you need to do is get in touch with a custom container space specialist.