Why Are So Many Businesses Moving to Container Offices?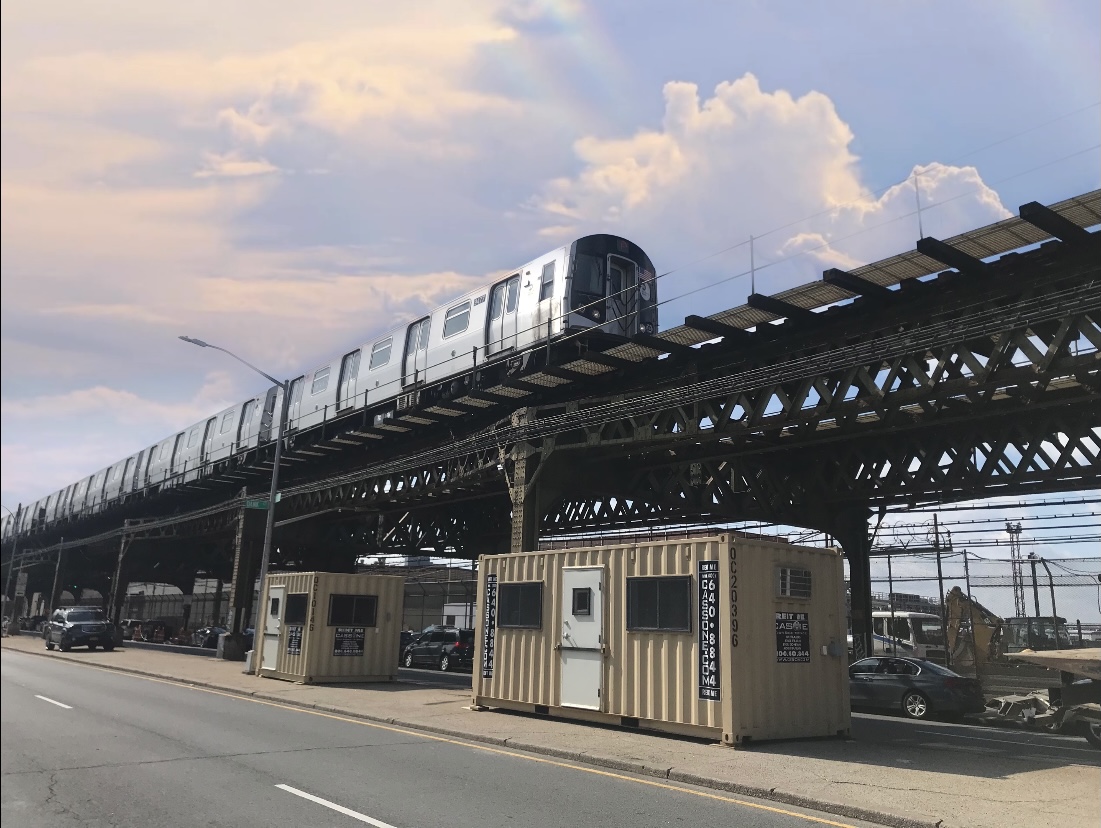 Most businesses that look to add additional space as well as businesses looking to set up new offices often pay importance to functionality and affordability. In addition, an office that helps reflect the nature of a business is usually a requirement. Something as simple as a container office can help address all such concerns with ease, and it comes as no surprise that such offices are finding favor with businesses from across sectors.
Shipping Container Office Trends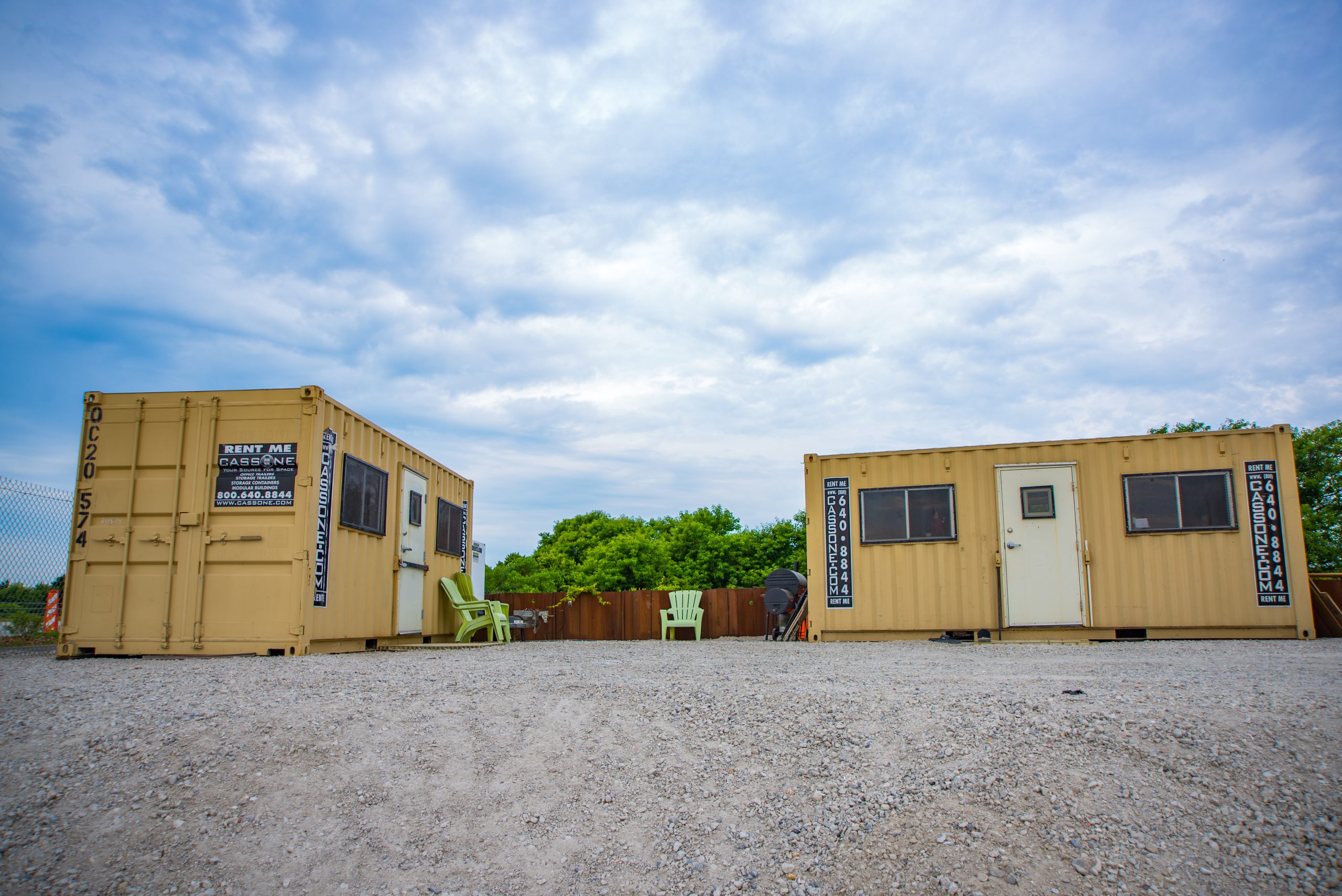 Data released by Allied Market Research shows that the global shipping container modification market is set to grow from $76.52 billion in 2019 to over  $114 billion by 2027. The use of modified shipping containers is common in office, residential, storage, and other types of spaces. Factors that experts anticipate will drive growth in this sector include an increase in governmental focus on green building technologies, the need to safeguard structures and the people they house from the elements, and having to deal with space constraints. 
While a number of countries, the U.S. included, have already set up initiatives that focus on designing and creating green buildings, an increase in urbanization and industrialization is also leading to a rise in demand for modified shipping containers – be it in the form of offices, homes, or storage space. Factors that work in the favor of office containers include cost-effectiveness, quicker setting up than conventional construction, portability, and ease of customization.
Are Shipping Container Offices for You?
If you're part of a small or mid-sized business, organization, or enterprise such as a tech startup or a legal firm that is looking for temporary or permanent space,  you may benefit by taking a look at what office containers have to offer. An increasing number of businesses are turning to container office rentals to meet short-term space requirements because these units are easy to set up and remove. Those looking for long-term solutions may expect several benefits too.
The use of shipping container offices continues to grow across different industries, and they are most commonly used by:
Construction and trade companies

Hospitals and healthcare facilities

Commercial and retail establishments

Emergency response and disaster management organizations

Government agencies

Researchers

Farmers
The Benefits of Office Containers
Anyone who feels that shipping container offices are a mere fad needs to rethink because this concept is here to stay. This is because the use of modified shipping containers as offices comes with multiple benefits.
Cost-Effective
Traditional office space can cost a lot of money, especially in big cities, and making modifications to suit your requirements can add a tidy sum to the overall cost. Data released by Levelset shows that the construction cost of a traditional single-story office building is $238 to $286 per square foot. Compare this with a little over $100 per square foot for a container office, and you'll notice that the savings are plain to see.
Multiple Floor Plans
If you think you'll have to make do with any basic floor plan that comes your way, you are rather off the mark.  If you look for container office layout plans using the internet, you'll notice that you are only limited by your own imagination. What helps is you may line up as many containers as you like horizontally, and even stack up to three of them vertically. No matter what type of floor plan you have in mind – whether it involves cubicles for your employees or a locker facility – you simply need to discuss it with your container office provider. Going the container office way also gives you easy means to scale up or down based on your changing requirements.
The Ability to Customize
There's more to customizing a container office than coming up with a floor plan to suit your needs. For instance, most people who look for shipping container offices require electricity, telephone, and internet connectivity, and this is fairly easy to accomplish. Customized cabinetry and seating are commonly sought by several businesses, as are air conditioning or HVAC systems. Other customization alternatives come in the form of extra doors/windows, vinyl/luxury flooring,  and high-security locks. If you plan to get an elaborate shipping container office building, including a cafeteria and a restroom in the scheme of things is also possible.
Construction Speed
A traditional brick-and-mortar office structure can take months or even more than a year to construct. A container office, on the other hand, can be ready for delivery in a matter of weeks. This is because the basic structure of the shipping container is already in place. Besides, should you choose to scale up or down at a later stage, you may expect considerably quicker turnaround times than traditional construction.
Durability and Security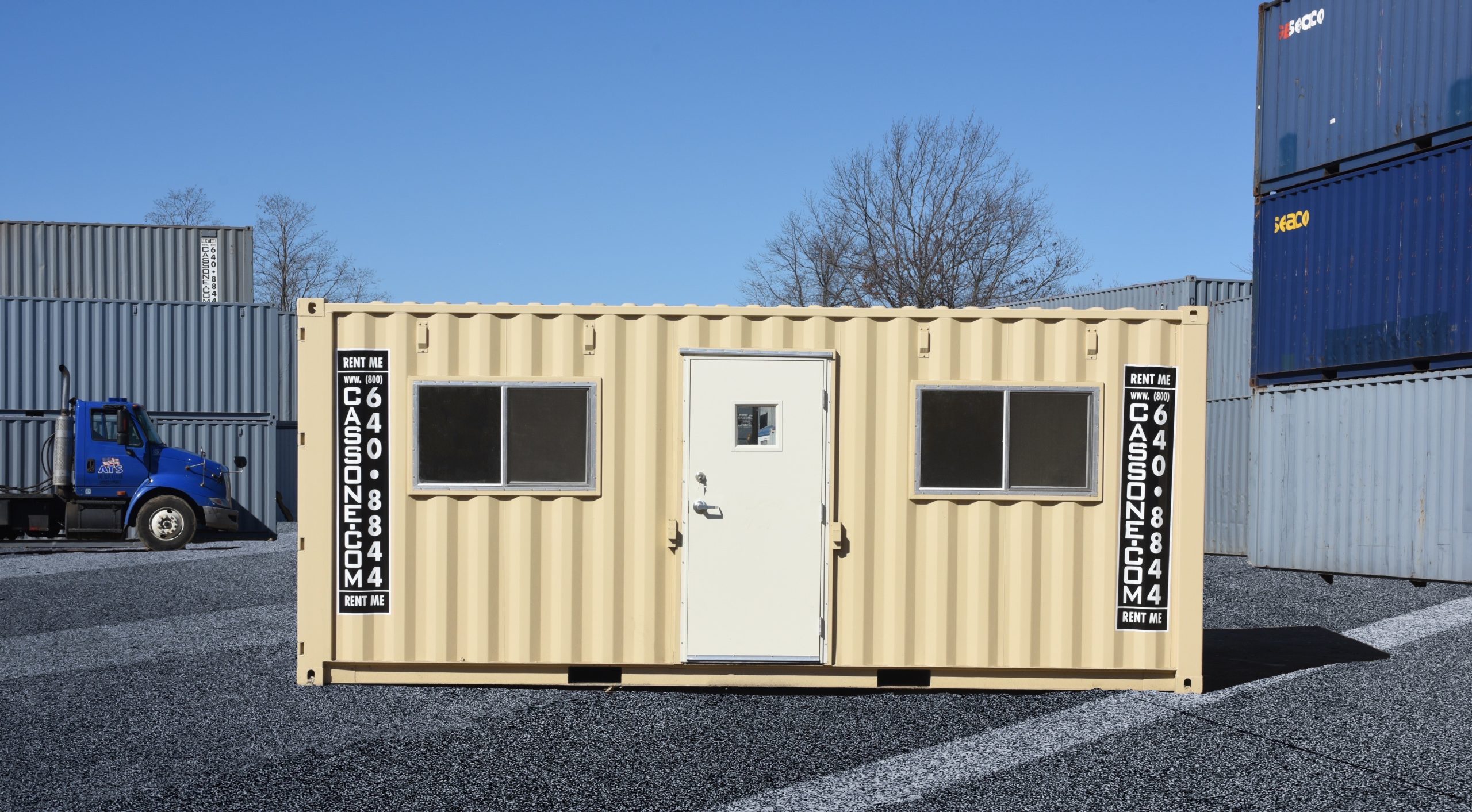 Made using high-quality steel, container offices come with corrugated walls welded to rails and end frames, and they make use of hinged doors.  As a result, you may expect your new space to be weather-resistant and highly durable.  Given that these structures are built to be resilient, you may expect them to last for more than 20 years.
Depending on the safety level you're after, you may choose to pay extra for options such as panic hardware, galvanized steel doors and frames, and heavy-duty door locks. Bear in mind that making structural changes may affect the overall strength and durability of a container office, which is why it's important that you work with a proficient company.  For instance,  some modifications might require the use of strengthening load-bearing walls to counter any possible negative effect.
Mobility
While it's not as easy to relocate a container office as it is a mobile office trailer, it's not as hard as one might imagine. All you essentially need to do is contact the company through who you've rented or leased your container office, and you may then expect it to do the needful. If you purchase a container office, you'll need to address the relocation of the unit on your own by contacting a transportation company that has the required expertise. Businesses that need to relocate their offices fairly often might benefit by looking at what mobile office trailers have to offer. 
Environmentally Friendly
Shipping containers as offices are environmentally friendly from the word go. They are, after all, made using repurposed containers that have hauled cargo in the past. With low ceilings, effective use of space, and the right type of insulation, they can lead to lower-than-usual use of energy for heating and cooling. In addition, shipping containers make way for sustainable construction because they do away with various materials used in traditional brick-and-mortar construction. Depending on the sector to which you belong, this particular aspect can also help your business attract positive media attention.
Standard Features
While you get to customize a modern shipping container office in a myriad of ways, you may expect it to come with some standard features. These might vary slightly depending on the company you select.
Side door entrance

Lockable access points

Windows

Painted exterior and interior

Painted/vinyl/wooden floors

A heating, ventilation, and air conditioning (HVAC) system

Fluorescent lighting
Can You Make a Shipping Container Office on Your Own?
While you may use a shipping container to create an office on your own, it's easier said than done. For starters, you'll need to purchase a container and all the required parts. If you choose to go this way, buying a used container would be the place to start.  However, you need to ensure that the unit you buy is up to mark and without major defects. You'll need adequate time to make your container office as well as the required know-how surrounding aspects such as wall assembly, insulation, and flooring. 
If you decide you make your own shipping container office, here's the basic outline you need to follow.
Determine how much office space you require to calculate the number of containers you need.

Create a container office layout plan that highlights the use of different spaces.

Mark out where you wish to place doors and windows.

Determine where electrical and other fixtures will go.

Begin the building process.
The building process will involve:
Cutting apertures in the structure and installing doors and windows

Painting/repainting the container

Adding lining and insulation

Installing the desired type of flooring

Installing wiring and electrical fixtures

Carrying out the required plumbing work
Buying and Renting Shipping Container Offices
If building your own container office seems like a tough task, purchasing or renting one that is designed to meet your specifications might be the way to go. This way, you get several alternatives from which to choose, and you may make a selection based on the features you're after or your budget. What also helps is that most companies that offer container offices for sale or rent give customers the ability to customize their units in different ways.
Renting container offices is fairly common because most requirements are temporary. For example, if your need for office space extends to around a year, or a few months every year, renting might be better for you than buying. Most companies let you rent container offices for any period over six months. If your need extends to more than three years, you may consider buying one. 
What works in favor of renting is that the company you partner with is responsible for delivering, maintaining, and eventually removing the office.  If you buy one, you may only expect the company to deliver your office, and you'll need to take care of the rest.
What About Portable Office Trailers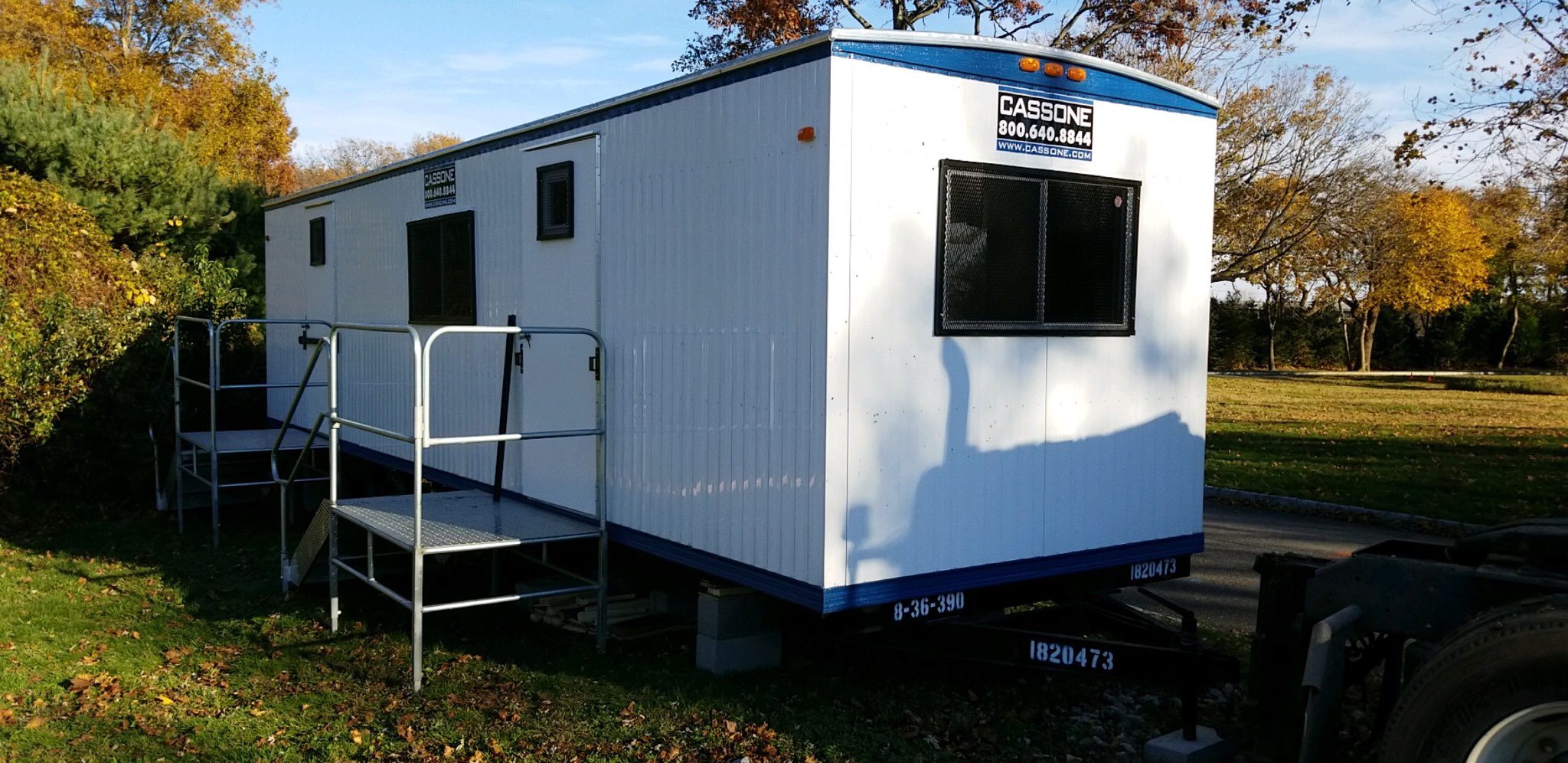 Unlike container offices, portable or mobile office trailers are not made using shipping containers. Instead, they are prefabricated in factories under highly controlled conditions. A distinct feature of a trailer office is that it comes on a wheels-and-chassis trailer base. This makes it easy to tow and move from one place to another. Given the base, these units sit a little elevated from the ground, thereby requiring ramps or stairs. 
Another key difference between portable office trailers and container offices is that the latter come with considerably longer life spans. In addition, if you want a large office space, opting for a container office might be in your best interest.
As with container offices, you may customize an office trailer in different ways. Depending on your requirements, you may get a portable trailer to serve as a private office, a sales office, a conference room, or even a coworking space. If you plan to set up two or more trailers to create a single office, you'll need to work with experts to override any potential configuration problems. This is also the case if you want your office trailer to have an added kitchenette or restroom.
When it comes to adding furniture, you may choose to include just about any type that fits into the unit. However, if you plan to relocate your office trailer often, going the minimalistic way might work well for you.  if you're planning to use your office at the same location, you may consider investing in customized ramps/steps as well as a firm foundation.
Since mobile office trailers come prefabricated, setting them at any desired location typically takes little time. Besides, you don't need to worry about setting up your unit because the company you work with is responsible for the same. if you're renting a portable office trailer, its provider is also responsible for its removal.
Conclusion
No matter whether you're looking for temporary or permanent office space, a container office deserves your attention. The unit you receive can be customized to your specifications in different ways, provided you work with a dependable container office provider, and you may also choose to get as little or as much space as you'd like. Besides, container offices serve as effective space solutions in just about any type of setting, be it a warehouse, an airport, a recreational park, a medical facility, or even a school.